The Stashi Yarn Van LLC's Weekly Digest
The Stashi Yarn Van LLC's Weekly Digest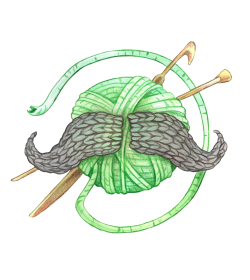 by Stephanie Stassi on February 17, 2021
Man, we are having quite a bitter February! Snow and ice storms are rocking the country (stay safe my Texas friends) and there seems to be no end of winter in sight...

However, despite all the snow and ice I have been driving around jamming to Netta. For those who may be new to her music, she is an Israeli pop artist who won in Eurovision in 2018 with her song Toy. She has an awesome vocal range- and makes some awesome sounds that I would do if I were more vocally talented.

This week I have been jamming out to her 2020 EP Album, The Best of Netta's Office, Vol. 1. It has covers of songs such as Barbie Girl, Supercalifragilisticexpialidocious, and Low. However, the song that stands out most from me from the album was Blue - yes the song that goes "I'm blue if I were green I would die." Something about it is just fitting for this January with the relentless snow, ice, power outages, and continuing quarantine. Heck, it has even been affecting my mood with some of the days over the past week feeling like a slog. The good news though is that March is only 12 days away- so Spring will be upon us before we know it. Until then, it's time to slow down and take care of ourselves as nature takes it's course.

Now it's time for some announcements!
I am currently applying to markets to sell yarn at- so keep your fingers crossed. More announcements will be made as things get finalized.

I have been talking with breweries and cafes about parking the van and hosting knit-ins. I have already gotten a couple of positive responses (and one BIG yes) so keep an eye on Facebook and Instagram as things get finalized!

A LARGE order from Chasing Rabbits Fiber Co. is on the way and will be here in time for the van launch in March!

I am starting to make room for Spring Yarns. Therefore, you can use the code "Blue February" to get 30% of all my alpaca bases. This includes: Varpu Sweater Kit x4, Varpu Sweater Kit x6 , Cumulus, Techno, and Brushed Suri! Get this yarn for your cozy 2021 winter projects or stock up for Winter 2022.
That's all for this week folks!


Until Next Time Stay Stashi!