The Stashi Yarn Van LLC's Bi-Weekly Digest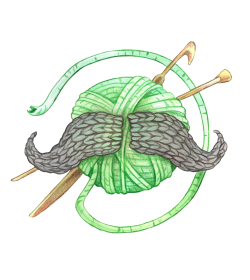 The Just Keep Swimming Edition
by Stephanie Stassi on March 24, 2021
Happy Wednesday everyone! In the blink of an eye another two weeks have passed- so it's time for another newsletter. Van Alpha now has 2 events under it's belt and I am now finding the rhythm in things. A special thanks to everyone who has made it out so far- it has been great to see you all and your support is keeping the dream alive!

Anyhow, it's almost April and there are a lot of events coming up. Feel free to check them out on the Calendar. On April 10th I will start vending at Artisan Maker's Eat 66 Market every other Saturday - which will be a great spot to eat brunch and buy some yarn!

This Friday I will also be making my first Pop-Up at Intermission Beer Company's Hooks & Hops event from 6-8:30! They will have pizza, sweet sweet beer, and plenty of fiber nerds with yarn! It's also not just knitters and crocheters- all fiber arts (spinning, weaving, embroidery, sewing, and needlepoint) are welcome. Bring your bestie and get ready for some socially distanced fun.
I'm going to kick this off with a couple of announcements:

For the rest of this month Borstet Alpakka, Techno, and Woolstok 150g will be 20% off in-to make room for Spring- which is finally here!

At all in-person events there will be "Intro to Knit" kits for sale! They are $20 each and contain 3 balls of Fritidsgarn, a pair of size 10.5 needles, a darning needle, and a 10 page instruction booklet for The Stashi Yarn Van's "Pleasurably Ribbed" scarf!

The "Got Yarn?" bumper stickers are now available! Snag one before they're gone and remember to sticker responsibly.

Starting this Friday knitting needles will be available (crochet hooks are coming soon)! I got an assortment of Knitter's Pride Basix needles- which are an affordable choice for those who need a needle at events to cast on their purchases! They will be up on the website this Saturday.
This Week's Featured Yarn
Sandes Garn Tynn Silk Mohair
This past Sunday I got a couple of inquiries about Tynn Silk Mohair ($12) from mystified customers. A few wondered how practical such a thin yarn is - especially since it seems like it would take eons to knit anything with it. With their curiosity, I was able to introduce these fine people down the rabbit hole of all things mohair.

Mohair is one of the oldest textile fibers (having its origins in Tukey thousands of years ago) and is produced Angora Goats. Mohair yarn is usually lace weight (though there are some exceptions) and spun with wool and silk in order to add strength and luster to the yarn. Therefore, one of the true beauties of lace-weight mohair is holding it double with other yarns. Using mohair with with a strand of a another yarn adds a halo effect and enviable softness to your projects - and it is quite in vogue with today's knit wear designers!

I also have other yarns that give a similar effect. If you prefer indie dyed mohair then Chasing Rabbits Fiber Co.'s Gossamer ($27) is for you. If you have found mohair a bit too "itchy" to work with, I have Fyber Spates Cumulus ($8.60), which is a Baby Suri Alpaca alternative. Please note that Gossamer comes in a 100 gram skein while Cumulus and Tynn Silk Mohair come in 25 gram skeins- so plan your projects accordingly for best results.

Check out below for pattern inspo on how to use Tynn Silk Mohair (and other lace weight "fluffy" yarns) for amazing results!


=


1) Making it's second appearance is Sandes Garn's free Poncho Design (I have it free when purchased with a project's quantity of yarn)! This beauty holds delicate Tynn Silk Mohair together with their bulky Fritidsgarn! Using these two bases together gives you a soft and extremely warm garment with lots of luster. You may have seen a sample of this guy on Instagram or at the Artisan Maker's Market and it blocks out gusty winds with ease while keeping me quite chic!




2) Who else is a sucker for "Grandpa Style" Cardigans? If you happen to be one don't sleep on
Sandes Garn's Embla Cardigan! This guy is ready for the briskest fall/winter days since it is knit with two strands of Tynn Silk Mohair held in tandem with two strands of Sandes Garn's Sunday. Therefore, Embla is quick knit with maximum Hygge vibes. This pattern is in the "Soft" pattern booklet and can be purchased from me for $12 along with a project's quantity of yarn. Pro-tip: The Soft pattern book is all about holding Tynn Silk Mohair with other Sandes Garn bases for glorious results. Check it out at my next in person event.



3) Tin Can Knit's Love Note is a great sweater that shows off how the delicate look that can be obtained by holding Mohair together with a strand of fingering weight yarn! It also provides a great example of how Mohair softens the color pooling effect with variegated yarns. All of our fingering and fuzzy bases would make a beautiful Love Note (which is one of Ravelry's most popular patterns for a reason)!



That's All Folks!
See you all this Friday at Intermission Beer Co.!